Tips for Staying Active This Winter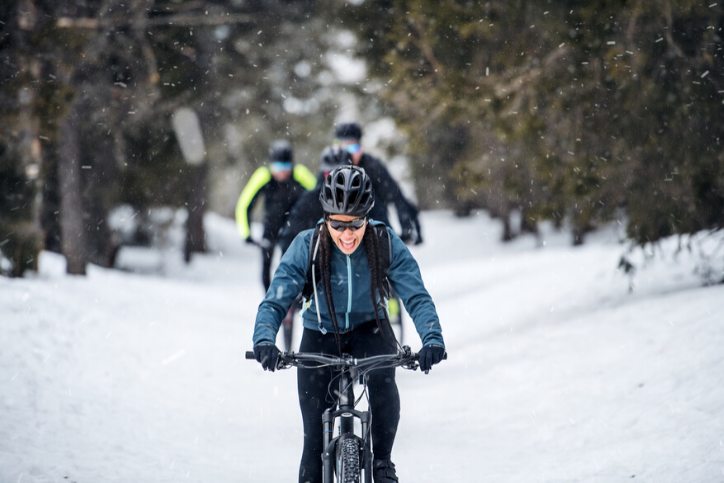 When you think about the coldest season of the year, staying active this winter may not be the first thing that pops into your brain. You're more likely to think about things like steaming soups, mugs of hot chocolate, and bundling up by the fire.
But working out is especially important during the wintertime. Not only does it help relieve stress—a common thing to encounter during the busy holiday season—but it also keeps you focused on your fitness goals. You won't slip back into old habits or regress in your health goals like so many other people do during this season.
So, strap on your hat, stick your hands in some gloves, and get ready to enjoy working out in the cold. Here are the best ways to staying active during the winter.
Get Outside
One of the most challenging parts about staying active during the winter is the low temps. However, as long as the weather isn't extremely low, you should still take the time to bundle up and spend some time outside. That might mean keeping up your daily walks during the workday, taking a quick jog around the block, or visiting your local park with your family.
Whatever you can do, do it. Both your mind and body will thank you!
Find an Online Exercise Class
Online workout classes are fantastic for many reasons.
They're awesome for fitting exercise into your busy schedule, which is significantly harder during this season due to the shorter days and countless holiday to-dos.
Exploring online options opens up a world of possibilities to find the specific types of classes that are harder to track down in physical gyms.
These types of courses are often much cheaper than their in-person counterparts. Who couldn't stand to save some money around the holiday season?
Grab an Accountability Partner for Staying Active This Winter
If you know you're struggling to keep up your exercise regimen during the cold winter months, reach for a friend or loved one to help kick you into gear. There's no motivation better than having an accountability partner to cheer on all your successes, help pick you back up during your setbacks, or to let you know you're not alone during this difficult, cold period.
Spend Your Weekends Wisely
If you work a traditional 9-to-5 job, having the time and motivation to hit the gym after work when it's already starting to get dark may be impossible. That's where the weekends come in! Make plans to do something physical AND fun each weekend. That might mean a family hike, find a festive holiday activity (ice skating, Christmas light hunting, etc.) to enjoy, or even just a long morning walk around your neighborhood.
No matter what you choose, focus on getting outside and being active during your winter weekends.
If you have any more questions or concerns about keeping yourself healthy during the winter season, feel free to reach out to the experts at Avant Gynecology. Our physicians would be happy to assist you in discussing all elements of your health and figuring out the next best steps for you and your body. Click here to schedule an appointment with us, or give us a call at 404-352-2850.
https://www.avantgynecology.com/wp-content/uploads/2020/01/Avant-Blog-Photo-Size-16.png
483
724
Jessica Killeen
/wp-content/uploads/2017/10/Avant-Logo-Final-Outlines-1.png
Jessica Killeen
2020-01-02 13:42:05
2020-03-26 14:28:33
Tips for Staying Active This Winter